TURKEY BURGERS!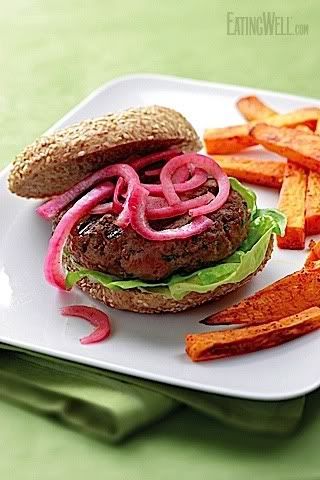 yes this is a stock photo lol... But I haven't made these in awhile. However, this is one of my favorite recipes! This recipe is from
Eating Well
(one Of my favorite places to find tasty healthy treats!)
so as you can see... My fiancé (I love saying that!) is pretty much all muscle lol! We eat pretty healthy during the week and this recipe is so easy and quick! Not to mention pretty darn healthy! Pair it with
sweet potato fries
and you have a meal!
Makes 4 servings
Active time: 35 minutes
Total time: 35 minutes
Ease of Preparation: Easy
Spicy Southwest flavors pair with sweet and tangy pickled red onions to create a standout turkey burger.
INGREDIENTS
Pickled Onions
1 cup red-wine vinegar
2 tablespoons packed brown sugar
1/2 teaspoon salt
1/4 teaspoon ground allspice
1 small red onion, halved and very thinly sliced
BURGERS
1 pound 93%-lean ground turkey
2 tablespoons chopped fresh cilantro
1 1/2 teaspoons ground cumin
1/2 teaspoon ground chipotle pepper,( I don't always use this) (see Note)
1/2 teaspoon salt
1/8 teaspoon ground allspice
1 teaspoon canola oil
4 whole-wheat buns, split
8 teaspoons reduced-fat mayonnaise
STEPS
1. To prepare pickled onions: Whisk vinegar, brown sugar, salt and allspice in a medium glass bowl. Cover and microwave on High until the mixture boils, 2 to 3 minutes. (Alternatively, bring the mixture to a boil in a small saucepan on the stove.) Add onion and toss to coat.
2. To prepare burgers: Preheat grill to high. Place turkey in a medium bowl and gently mix in cilantro, cumin, ground chipotle, salt and allspice until distributed throughout the meat. Form the mixture into 4 patties. Brush with oil.
3. Grill the burgers until cooked through and no longer pink in the center, 3 to 4 minutes per side. Toast buns on the grill, if desired.
4. Drain the onion, discarding the marinade. Spread 2 teaspoons mayonnaise on each bun; top with a burger and pickled onions.
TIPS
Note: Chipotle peppers are dried, smoked jalapeño peppers. Ground chipotle can be found in the specialty spice section of most supermarkets.
NUTRITION
Per serving: 308 calories; 12g fat (3g sat, 1g mono); 65mg cholesterol; 30g carbohydrates; 26g protein; 4g fiber; 738mg sodium; 150mg potassium. Nutrition bonus: Selenium (30% daily value), Iron (20% dv). 2 Carbohydrate Servings Exchanges: 2 starch, 3 lean meat
Enjoy!!! And have a great weekend!!