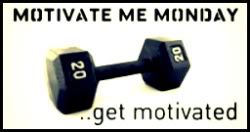 Y'all I have to be honest...I feel gross.
Even tho I have been working out at the gym...I have not been eating the best and I can fell it.
I haven't done crossfit in a few months and I can tell my body has changed. It's not near as fit as it was.
so...I am starting back with crossfit next week.
Even though its hell sometimes...Id rather be beat up by barbells than feel like I'm feeling right now!
so here's some inspiration!
now get your but to the gym ladies!!
after linking up with Ashley and I today!!