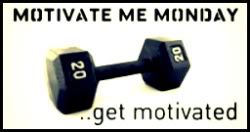 Welcome back to Motivate Me Monday ladies!!
I have to say that I ate clean all week long last week and it felt great! I feel so much lighter.
However I ate pizza today and feel like blah right now...but back to eating clean again this week.
Did you know that I pretty much only cook twice a week?!?!
Prepare your meals!
That will keep you eating better for sure.
I prepare two days worth of meals every day. I cook a ton of chicken and what I don't use for the two days worth of meals...I freeze and use later in the week.
Meal planning and prepping helps keep me eating clean during the week...I don't run out of meals and head to the vending machine for a snack.
Eat 5 to 6
small
meals a day...every three hours.
Here are a few of my meals from last week...if you follow me on
Instagram
...you've already seen these!
1/4 cup egg whites with sauteed veggies and Ezekial bread topped with hot sauce!
overnight oats with blueberries and strawberries
lots of butternut squash in my sauteed veggies!
lean ground turkey meat with sauteed veggies
so what does my grocery list look like?
egg whites
ezekial bread
organic corn tortillas for clean taco days!
tons of chicken, shrimp and ground turkey
almond butter or peanut butter
hot sauce
steel cut oats
almond milk
cottage cheese
vanilla greek yogurt
blueberries
raspberries
strawberries
bananas
avocados and organic guacamole
TONS of jalopenos
precut veggies for stir fry including:
kale
cabbage
squash
zucchini
red potatoes
bell peppers (green and colored)
mushrooms
onions
butternut squash
I dare you to eat clean this week and link up and tell us about it on Monday!
You'll feel great and I swear I had more energy than I have had in a while!
now get your butt to the gym ladies!!
after linking up with Ashley and I today!!