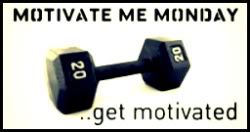 This week I really need the motivation.
I feel like I haven't been completely honest.
I do these Motivate Me Monday's every week...
yet for the past two weeks I haven't worked out.
I have been so tired from moving and packing and stressing. We literally had 30 days to find a new house and move (we are renting for now). Luckily my sister is a realtor and boy was she a trooper!
Needless to say...I feel gross!
I am ready to get back to Crossfit.
Today is that day.
I need the motivation y'all.
Just like I know you need the motivation too.
Let's do it together!
Now for some inspiration!
.....................
I hope y'all have a great day ladies!!
Link up and tell me about anything fitness related!
Don't forget to visit my co-host Ashley!!