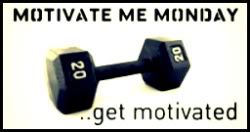 Hey ladies!!

Today is just gonna be some inspiration.
I am pooped from the weekend.
Do you ever feel like you don't even get a weekend...it goes by too too fast?
Well...my workouts last week were non existant...so I want to hear that you guys had at least some great workouts last week!
My goal this week...to make it to crossfit at least twice.
I hope y'all have a great day ladies!!
Link up and tell me about anything fitness related!
Don't forget to visit my co-host
Ashley
!!