Back to Motivate Me Monday!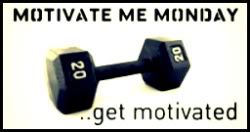 A lot of you ladies have commented on my toned/muscular arms...so I thought it would be fun to do a VLOG!
In the VLOG...I am showing you three different types of pushups. I did this a couple summers ago at least three times a week. I constantly got asked about my arms. And the best part is...

you can do it at home!!
and now for some inspiration!
I hope y'all have a great day ladies!!
Link up and tell me about anything fitness related!
Don't forget to visit my co-host Ashley!!