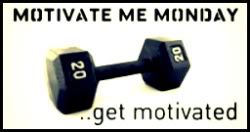 Oh man...
So you ladies know that I have been struggling to get to crossfit lately.
Well I finally made it to Crossfit two times last week...
which was my goal!!!
Yay me!
Why did I ever slack off to begin with?
It felt soooooo good to get back in the swing of things.
I forget how good it makes me feel.
Even tho I may not be able to walk for a couple days or even hold my arms up to wash my hair haha. Yes sometimes its that bad. Even bruises on my collar bone from push presses!
But that's what makes it so awesome.
I know I'm doing my body good!
Now get after it ladies!
This is your week!
My bachelorette party starts the 17th and I wanna be tip top!!! haha...not that two weeks is gonna do much!
Hope y'all have a great day ladies!!
Link up and tell me about anything fitness related!
Don't forget to visit my co-host
Ashley
!!