so It's Monday and I am back with Motivate Me Monday!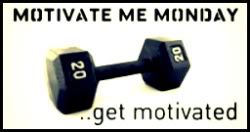 Ok...so I got a lot of comments from you ladies regarding my arms while looking at photos of me in my wedding dress!
you can have awesome arms too!!
I created this vlog a while back with three different tyoes of push ups that will definitely tone your arms!
Also...I have been rowing a TON lately and I really believe this is helping as welll.
Click here for a clip if you aren't quite sure how to use the rowing machine.
I promise...this is seriously such a great workout...works your whole body...even your butt and stomach! Just be sure to keep your tummy tight the whole time!
Do these two things and you're on your way to great arms!!
now get your but to the gym ladies!!
after linking up with Ashley and I today!!