Happy Friday my sweet friends!
this recipe is so so yummy! it is another of our favorites. and of course it's from
Eating Well
.
Turkey Sausage & Spinach Pasta!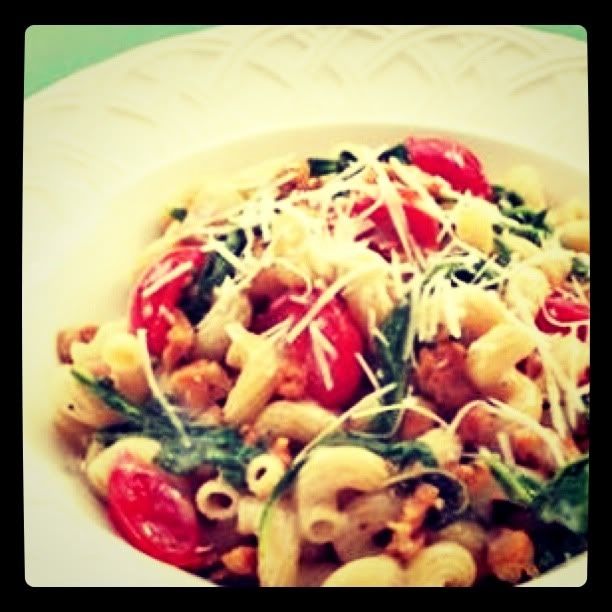 Ingredients
12 ounces whole-wheat short pasta, such as shells or twists
8 ounces hot Italian turkey sausage links, removed from casings
3 cloves garlic, chopped
8 cups baby spinach
2 cups halved cherry tomatoes
1/2 cup finely shredded Pecorino Romano, or Parmesan cheese, plus more to taste (i usually add more lol)
1 teaspoon freshly ground pepper
1/4 teaspoon salt
1 tablespoon extra-virgin olive oil
1/2 cup of the water left over after the noodles are done...starchy water
Preparation
Bring a large pot of water to a boil. Cook pasta until just tender, 9 to 11 minutes, or according to package directions.
Meanwhile, cook sausage in a large nonstick skillet over medium-high heat, breaking it up into small pieces with a wooden spoon, until cooked through, about 5 minutes. Stir in garlic, spinach and tomatoes. Cook, stirring often, until the greens wilt and the tomatoes begin to break down, about 3 minutes. Remove from heat; cover and keep warm.
Combine 1/2 cup cheese, pepper and salt in a large bowl. Measure out 1/2 cup of the cooking liquid (starchy water); drain the pasta. Whisk the starchy water and oil into the cheese mixture; add the pasta and toss to combine. Serve the pasta topped with the sausage mixture and an extra sprinkle of cheese, if desired.
Nutrition
Per serving:

352

calories;

9 g

fat (

3 g

sat ,

2 g

mono ); 26 mg cholesterol;

47 g

carbohydrates;

0 g

added sugars;

18 g

protein;

6 g

fiber;

382 mg

sodium; 379 mg potassium.

I hope you all enjoy this recipe...it is so easy and very tasty! not to mention a little healthy ;-)
What are your plans for the weekend? Have an amazing recipe you would like to share with me? I love new receipes!!