Good morning everyone!
Hope you guys had a wonderful weekend...as usual...the weekend went by too fast.
Eric and i watched two movies this weekend ;-) we didnt have much else to do...i just wanted to relax this past weekend. We watched Limitless (it was pretty good but didnt care for the way it ended...eric didnt really like the whole movie) and we watched Clash of the Titans (i have to say this was a pretty good movie...we both liked it...it had been DVR'd since January lol!)
This is a small gopher mound!
We think we have a GOPHER in our back yard! big mounds of dirt are everywhere...and chloe has caught wind of its scent and stalks the mounds lol. she actually tries to dig in them...geez...she is getting groomed this week! How in the world are we gonna get rid of it!
I keep forgetting to take photos for the Instagram Monday (linking up today!).
Instagram is an app on my iPhone that i love now!!
So i took a couple this morning using instagram on my way to work lol. the sky looked so pretty and the other of ME as i was stopped at a stop light (no i was not driving!)
I also am linking up with Mingle Monday!!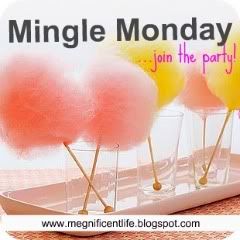 How was your weekend? anything exciting happen?
Don't forget to enter the giveaway for KE Cookies if you havent already done so. It ends tomorrow at noon. Click
HERE
to enter!