Hey there cupcake lovers!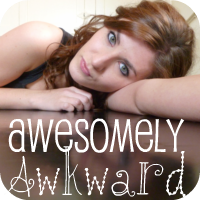 Who are you and why am I reading this you ask?
Well, I'm Jamie but I think we already covered that.
I am the girl who got braces when she was 23...
I dance around the kitchen singing to my cat with a wooden spoon and a mic. Me and my hubs laugh at each other all the time. (he's a college student... we ran away when we were 18 and got married). I could eat french fries with every meal... sometimes I do. I work at a bank and go to college at night. I blog and make jewelry in my spare time. I like to have a way to stay creative.
I would like to think my blog is funny.
I sometimes say random inappropriate things. It's always exciting though, I don't really have a schedule. I write about what I want, when I want. Blogging is my hobby. It's something that I love to do. Sharing stories, making people laugh, maybe even teaching people something. Some style posts... some (not so gourmet) recipes... Mostly it's me sharing my life's awesome and awkward moments.
My life is not always interesting but it sure is fun to write about. I also have an online jewelry
shop
. I love making jewelry and if I had the chance, I would spend all day making custom items. It's just another great way for me to express myself. My shop hasn't been open for long but I have already
had some great success.
I love working with silver (can you tell?) but work with gold, beads, and other metals as well. I hope you guys have enjoyed learning a little more about me. Come stop by the blog and say hi anytime! If you feel like checking out the shop use code "cupcake" at checkout for 20% off all orders.
......................................................
Thank you so much, Jamie! I have to tell you ladies...that when I started blogging in August...Jamie was one of the very first that I started reading!
I know you will love her! Now hop on over to say hi!
Blog :

Shop