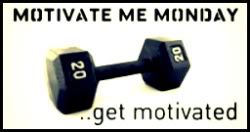 So you may or may not know that Eric and I eat pretty healthy during the week...not perfect but decent.
I prepare all of our meals...even weigh them out!
Then come weekend...we havea big dessert on Friday nights and prob on Saturday as well. Plus our M&Ms on Sunday. We may even get donuts on Sunday too.
I mean...come on...you can't eat strict 24/7.
I would go crazy!
Needless to say...once Monday rolls around...we feel like blah.
So this weekend and going forward...we are going to cut back on how much junk we eat. We'll still get our Friday dessert but in a smaller portion.
I already feel better.
Just by changing a few little things in your diet...you can see so much change.
Diet really plays a huge part...you can work out all you want...but if you only eat junk...you won't see the results you are looking for.
.................................
Hope y'all have a great day ladies!!
Link up and tell me about anything fitness related!
Don't forget to visit my co-host
Ashley
!!