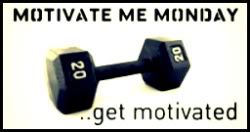 SOOOOOO sorry I wasn't here last Monday.
I had the whole week off last week and didn't get much done at all...not near what I wanted to get done.
We are closing in on the last month of the wedding and I need all the motivation I can get, ladies!
I already know I will be struggling with getting into the gym...but I MUST!
Hope y'all have a great day ladies!!
Link up and tell me about anything fitness related!
Don't forget to visit my co-host
Ashley
!!