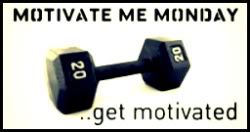 is my new fav type of cardio.
I leave the gym drippin' with sweat a I don't normally when I do the elliptical or the stair stepper.
I will be doing tons of cardio from now until the wedding! I went to the gym 6 times last week!
Just set your mind to it and you can do it!
Hope y'all have a great day ladies!!
Link up and tell me about anything fitness related!
Don't forget to visit my co-host
Ashley..she is back rom having her beautiul baby girl and ready to get in shape!
!!