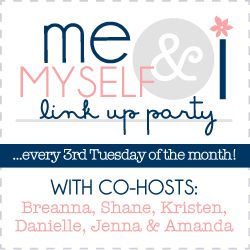 1. When you're feeling down, what do you do to pick yourself up?
I shop! or eat a lot of carbs and sweets!
2. If you had to live in a differ
ent time period which would you prefer?
I think I would love to live in the 70s!
3. What is the most creative Halloween costume you've ever worn?
Well to be honest...I think you would rather want to know about Eric's most creative costume!
Halloween 2012
Halloween 2011
4. Five weird things about you we wouldn't know without being told?
- I have to put my left shoe and sock on first!
- I sing and dance all over the house busting out dance moves and don't even realize it until Eric is staring at me in bewilderment!
- I will re-staple pieces of paper until its perfectly aligned.
- I literally hate talking on the phone.
- I can't remember how to write cursive! I actually tried the other day!
5. What would you tell your 16-year-old self?
to not care what everyone thinks so much and be yourself!


..............................



[Our additional co-host this month is Chelsea from

Adventures With My Enemy Melanoma

who submitted the 5th question brought to you this month]
If you submit a question via this
form
, you have a chance to co host with us :)
1 question will be chosen and if it is yours we will email you. Easy as that!



Now that you know a little more about me, it's your turn :)
+Please follow each of your hosts and let us know that you did, so that we can follow you back!
+Grab the button and place it in your post
+Click around on a few other bloggers and make some new friends
Now have fun and link up!!