Welcome back to Motivate Me Monday ladies!!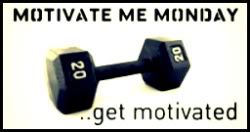 Last week I dared you to eat clean for the week...how did you do?!
I did great!
and made clean french toast a couple times too!
via instagram: CLEAN CHOCOLATE FRENCH TOAST for
#breakfast
y'all! I was just a little tired of eating eggs and toast every morn. I made this with egg whites, almond milk and cinnamon as your egg mixture. 2 slices of Ezekiel bread. 1/2 banana. PB2 peanut butter. And I didn't have any agave syrup :-( so I made a chocolate sauce with unsweetened cocoa powder, water and stevia sweetener. So good!!!
!
via instagram: More clean French toast on this Saturday morn :-) made with egg whites almond milk and cinnamon for the egg mixture. Topped with unsweetened cocoa powdered mixed with water and stevia. #pb2

peanut butter. Raspberries and agave nector as my syrup! I devoured this I think in less than a minute lol!
plus we had a Mexicano night!
via instagram:

What's for dinner...mexicano. A stir fry of chicken, bell peppers, Jalopenos, and mushrooms. Topped with organic guacamole wrapped in an organic corn tortilla.
See...eating clean doesn't have to be completely boring!
A lot of you ladies have been asking for a meal plan. I really don't have one and I have no clue how to make one but below is what I could be eating daily. Just make sure you're eating every three hours. I love my overnight oats. I don't even know if this is a balanced meal plan...so don't go quoting me on this!!!
I am not a nutritionist...this is just what I eat personally.
Have fun with it tho
. I made one night into mexicano night. change out your eggs one morning for the clean french toast. Change out your chicken for some shrimp over a salad. Follow me on instagram and I'm sure you will find more recipes of what I'm eating. Also, follow other Instagramers that tag
#cleaneating
. That's what I did.
And if you are looking for a workout routine...I posted
this one
last year and it's still a great workout.
If you ladies have any questions let me know!
now get your butt to the gym ladies!! AND eat clean again this week!!!
after linking up with Ashley and I today of course!!