I cannot even tell you how happy I am that it's Friday!!!!
I am completely worn out...only 8 hours of work then weekend...I think I can...I think I can!
Funny story...I was told I was talking in my sleep last night. I guess right before my own alarm was to go off this morn...I started yelling..."get up! get up!". Maybe that was my subconcious telling me to get up and go to the gym lol! WIERD! But I didnt...I was too tired to go (sad face).
The receipe I have for you today is SO yummy!!! I've made it several times and it is from the book by Jillian Michaels..."Making the Cut".
I have to say this is so easy and I'm usually done in about 20 minutes.
A 20 minute meal?!
What could be better than that!!
You could pair this with rice or any veggie.
Chicken Salpicon Lettuce Wraps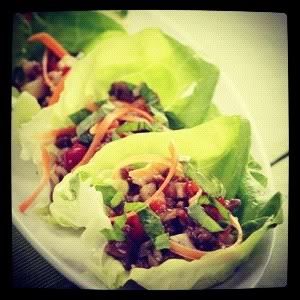 Ingredients:
about 2 pounds of chicken breasts
2 cups chopped, seeded tomato
1/2 cup chopped onion
1/4 cup chopped fresh cilantro
6 jalopeno peppers, sliced (with or without seedds)
1/3 cup white vinegar
1 teaspoon olive oil
1/2 teaspoon freshly ground pepper
1 or 2 avocados, diced
6 large lettuce leaves
1. Add water to a large skillet, filling it to about 1 inch deep and bring to a boil. Add chicken and simmer for about 8 minutes or until done. Let it cool and cut into thin strips. Whiile chicken is cooking; start chopping!
2. Combine chicken, tomoato, onion, cilantro and jalopeno in a large bowl. in a nother small bowl, combine vinegar, oil and black pepper. Add vinegar mixture to the cicken mixture and toss to coat. Add avocado just before serving; toss gently to coat. Serve chicken mixture over lettuce leaves!!
And that's it! Pretty easy huh!!
The challenge for the week was to try a new healthy recipe and share it. So if you are looking for some yummy healthy recipes...join us!!
I hope everyone has a wonderful weekend!!
Oh Yeah...I'm going wedding dress shopping on Saturday!!!!!!!!!! WOO HOO!!
Kisses!
Manda