Hi Again! (two posts in one day? i know, i know!)
First...if you did not win the Simply Posh by Mel Giveaway...you should def check out her site. I am ordering some today to send to friends and family! who doesn't love to receive something yummy in the mail! and they are at a great price as well!!! (click on the photo to visit her shop!)
Ok so I have a request from you ladies!
I love emailing you back...and I noticed that some of you (not pointing fingers here!) dont have your email set up on your profile. So when I respond to your comments from my email...it's actually going to a no-reply. And you never get it. You proably think I am just ignoring you lol. Well...Im not! With the ladies that I do email back and forth to...you make some pretty good bloggie friends and are able to chit chat for bit!
So here is what you need to do!
I use blogger...so I will demonstrate with that!
Go to your main blogger page.
See my profile photo? Look to the right...click on "Edit Profile".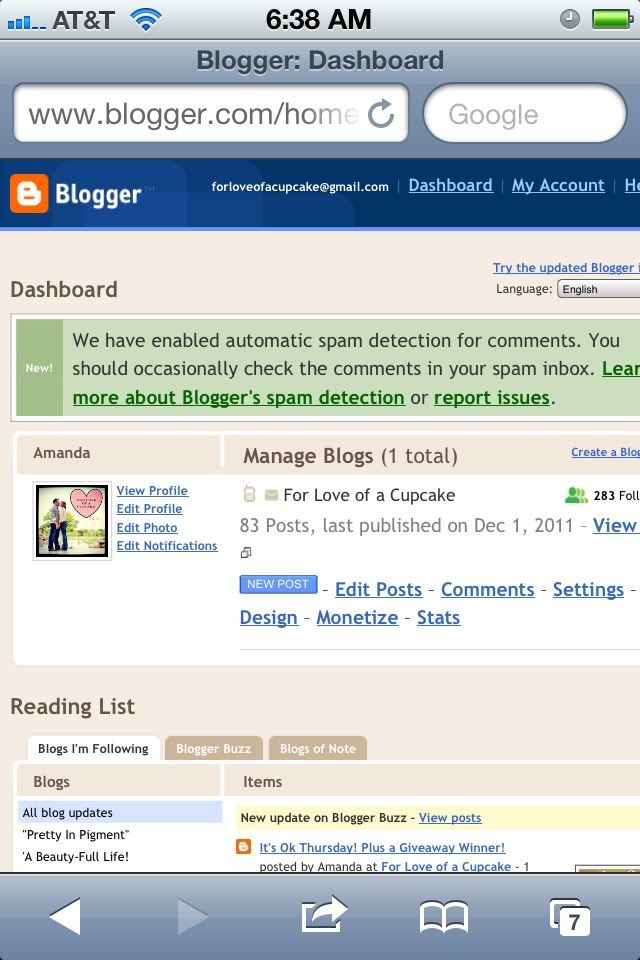 now...under "Privacy" click the box for "Show my email address". And make sure that under "Identitiy"...you type in your email address. And your done! Now you can make even more bloggie friends!!
Now a little get to know me!
#1. What's a nickname only your family
calls you?
Manda Panda

#2. What's a weird habit of yours?
This might be a little bit compulsive disorder...I dont know lol...but I cannot have any peice of clothing hanging out of my dresser drawers!

#3. Do you have any weird phobias?
This isnt weird but I have a phobia of spiders!!! (and probably bugs i general...they always FIND me)

#4. What's a song
you secretly LOVE to blast &&
belt out when you're alone?
hhhmmm...I currently don't have any of those! Am I weird? Or just brain dead right now.

#5. What's one of your biggest pet peeves?
Other driver's on the road that don't use blinkers or are goin WAY below the speed limit. Come on people...I got places to go!

#6. What's one of your nervous habits?
I fidget ALOT

#7. What side of the bed do you sleep on?
Looking at the bed...on the right

#8. What was your first stuffed animal
& it's name?
No clue!

#9. What's the drink you ALWAYS order at starbucks?
Americano Misto with two splenda and one pump sugar free vanilla! (only bc I try to be a little healthy!)

#10. What's the beauty rule you preach..
but never ACTUALLY practice?
moisturize

#11. Which way do you face in the shower?
My back faced to the shower head

#12. Do you have any 'weird' body 'skills'?
none really. but what about flaring my nostrils lol!
#13. What's your favorite 'comfort food'/food thats
'bad' but you love to eat it anyways?
anything sweet...but mostly chocolate cake/cupcakes or anything CHOCOLATE!

#14. What's a phrase or exclamation you always say?
hmmm. or interstting

#
15. Time to sleep- what are you ACTUALLY wearing?
I sleep naked lol! (is that too much info?!?!)

Now I am tagging (these are also some of my lovely button swap ladies for December!):
Hope your Thursday is going great!!!
Manda