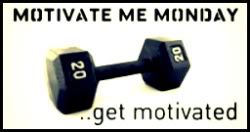 Oh you guys...
For the past two Sundays I have worked out! Normally...I only go to the gym 2 or 3 days a week.
I feel like I've been eating 'not so healthy'.
This week I'm gonna work super hard! Plus...I need to be able to maintain my weight and size because my wedding dress fit perfect a couple weeks ago!
Hope y'all have a great day ladies!!
Link up and tell me about anything fitness related!
Don't forget to visit my co-host
Ashley
!!