Today I am linking up with…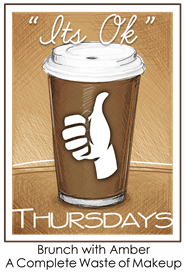 …it's ok to spoil your dog rotten and bring her water in bed!
…it's ok to check your personal email 100 times a day (while you're at work)!
…it's ok to think about being the future Mrs. Wright all day long!
…it's ok that I have a fiancé that is obsessed with Superman heehee! (if he sees this he will kill me lol)
…it's ok to wait way too long to get an oil change…oops ;-/
…it's ok to stop at Starbucks every day and then sometimes at lunch ;-)
...it's ok to bake all day just for fun!
I hope you guys enjoy knowing a little about me!
I am super glad it's Thursday...one more work day left. it can't come fast enough!