Let's Link Up for Motivate Me Monday!
I am co-hosting with Ashley and Whitney!
Even if you didn't participate in this weeks challenge...you can still link up and tell us about anything in your life that is fitness related!
Thanks to everyone who joined last week!
Today's Challenge/Topic is :
Drink 8 glasses of water a day. Try and keep track.
Ok ladies! Just a quick recap of last week. I was horrible at getting to the gym. however I did do a quick workout at home a couple times last week. I still felt like POO!! There is just something about going to the gym that just makes you feel a little better lol. During the week I ate pretty decent. My normal no sodium meals 5 to 6 times a day!
One fun thing I did this weekend was to run the Warrior Dash! Go HERE to learn more about it!
It's a 3 mile run with lots of obstacles like running thru mud pits, sliding down poles, running over crushed cars, and climbing over walls!

MY WHOLE BODY IS SORE TODAY!!!

I could barely get out of bed! But

YES

I love that feeling haha! It doesnt seem that hard when youre running it tho. There were like 40 mile an hour winds and it was sandy as heck! So maybe the reason I'm not smiling in these pics...is because I had a TON of sand in my eyes!!
BEFORE...
(these were actually our Other's beers! They watched while we ran!)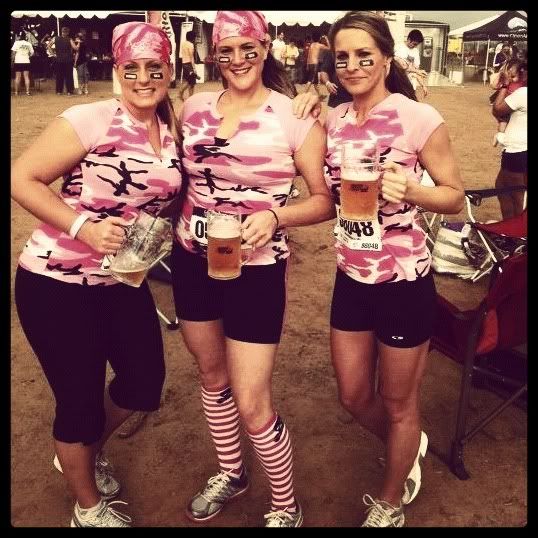 AFTER...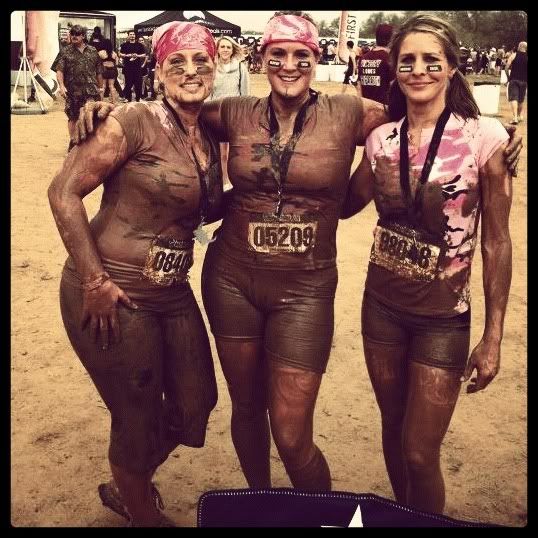 Did I drink enough water?
Not the normal standards lol...BUT I did drink more than I normally do!
I think I got up to 6 glasses of water.
The least amount I drank was earlier in the week and that was 4 glasses.
For me...I found it easier to drink out of a straw and I ended up drinking more water!
Another good way...is to get two huge bottles of water.
Drink one bottle before noon and the other after noon. (I used to do this when I lived in Dallas years ago...and it worked for me. I try to do that now...but I love drinking coffee all morning.
NEXT WEEK'S CHALLENGE/TOPIC:
Try to be good on Thanksgiving! Don't stuff yourself til you're about to pop. Enjoy but to a limit! And make sure you get to the gym to burn those EXTRA calories off! Cardio...yes please!
If you are not sure how to work out a particular muscle group...please email me and I would be happy to help you! Then you can tell me next week how it worked for you! forloveofacupcake@gmail.com
Now let's link up...
Did you drink enough water?
grab the button and visit my co-hosts Ashley and Whitney!
If you have any ideas for challenges...or something you would like to bring up...email us and let us know! Tell us your weaknesses and strengths for the week in each MMM post.
Have a wonderful day!!