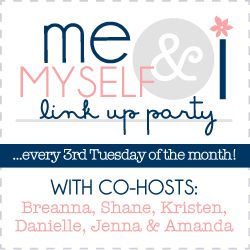 And the 5 questions are....
What is your favorite season and why?
my fav season would actually be summer. Even tho I love all of the fall clothing...I love sbeing hot. Am I a complete weirdo? maybe. But I love sitting outside in the sun!
Talk about a moment that changed your life.
Well...something very exciting just happened that will be a milestone in my life and create lots of changes! umm like maybe kids in the near future! heehee. Eric and I got married!
If you could be any Crayola crayon color, what would you be and why?
I would be...yellow. Because I am so clumsy...yellow would be for caution when approaching me! lol.
Describe yourself as a superhero. Super power? Name? Sidekick?
hmmmm...seriously...this one is so hard for me!
I imagine my super power would be something like being able to read people's minds! But that could def me into trouble!
If you had all the money in the world and could only shop at 3 stores, where would you shop?
probably... H&M, Forever 21 and Francesca's
[Our additional co-host this month is Nicholl from The Chiffon Diary who submitted the 5th question brought to you this month]
If you submit a question via this
form
, you have a chance to co host with us :)
1 question will be chosen and if it is yours we will email you. Easy as that!
Now that you know a little more about me, it's your turn :)
+Please follow each of your hosts and let us know that you did, so that we can follow you back!
+Grab the button and place it in your post
+Click around on a few other bloggers and make some new friends
Now have fun and link up!!