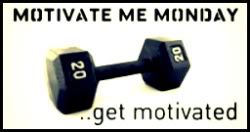 It has been quite a few weeks since I've done a Motivate me Monday. I guess I haven't felt very motivated lately.
However this last week after eating so much crap...I feel like blah.
Since I just started back at crossfit...I decided I will be eating clean! We already eat fairly good but I'm really taking it to the next step!
I am buying organic for sure! And not going to eat anything processed during the week. The weekends will be a little different and I wont be so strict. I would go crazy if i couldnt slack at least a little bit.
I have been stalking instagram with people who eat clean and they are such an inspiration!
Today..I am starting my day off with overnight oats.
Steel cut oats, almond milk, vanilla greek yogurt, strawberries, and a little cocoa and peanut butter.
breakfast is the most important part of the day for sure!! I made them into mini jars because I am eating every three hours as usual!
Im sure by now there is a photo on instagram ;-)
This is the easiest breakfast ever so no excuses!
now get your butt to the gym ladies!!
after linking up with Ashley and I today!!