Happy Friday!!!!!
I adapted the following recipe from Prudent Baby. You can view her version of the recipe HERE.
I actually posted a photo of her creation on my
"Oh How Pinteresting" post
on Wednesday and decided to try it out in a healthier version!
Here is what I came up with! You can make this fat free or with only 5 grams of fat. I'll explain in a bit!
1/2 Tablespoon of Butter
1/2 Tablespoon Natural Unsweeted Applesauce
(if you want it completely fat free...use no butter and 1 Tblsp applesauce)
1 Tablespoon of Splenda Blend
1/4 cup of Egg Whites (like Egg Beaters)
2 Tablespoons Fat Free Sour Cream
A couple drops of Vanilla Extract
1/4 cup Flour
1/8 Teaspoon Baking Powder (NOT baking soda!)
For the Cinnamon Crumble on Top
1 Tablespoon Applesauce
2 Tablespoons Flour
1 Tablespoon Splenda Brown Sugar
1 Teaspoon Cinnamon
It seems like a lot of ingredients but you can have this yummy treat within 10 minutes!!
Also note that if you want this fat free...replace the 1/2 Tblsp butter with 1/2 Tblsp of applesauce.
I made it both ways. BUT BEWARE...using only applesauce will make it kind of rubbery. To be honest...I will prob only use applesauce next time. It's edible ;-) I have to say though...using butter did make it a little better.
OK! select a coffee cup! (mixing everything in your coffee mug!) Put your butter and applesauce in it. Make sure your butter is pretty soft (microwave a little if need be). Then add your splenda blend sugar and mix well. Add egg and sour cream and vanilla. Mix a little bit more. Now add you flour and baking powder. Mix it until everything is combined.
Now in a separate bowl (i used a disposable plastic bowl!). mix together your "Cinnamon Crumble Topping" and place on top of the main mix in your coffe cup.

Place in the microwave for a bout 1 minute and 15 seconds!
Now enjoy! E thought is was pretty good too!
Next time I might add a little cinnamon into the main mixture but the topping DEFINITELY makes this dish.
It's quick and simple and that's exactly what I like about it! Plus low in fat (or fat free). What could be better?!
Chloe enjoyed it! When she was little I taught her a few tricks. One trick was to "Gimme a Five". So she kept giving me fives this morning with out me having to ask her lol!
She'll give you a high five standing up
Or a high five sitting down!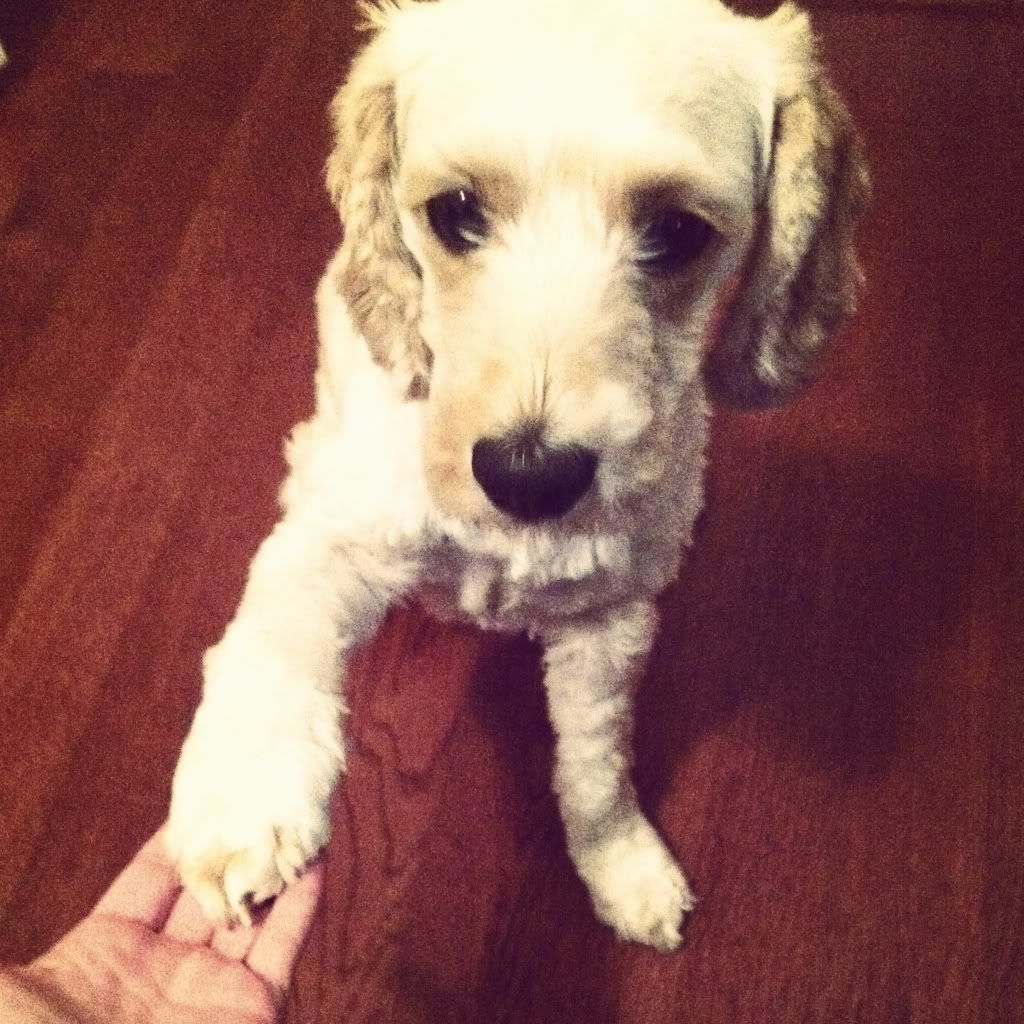 My Starbucks and coffee cake '-) YUMMO!
HAVE A WONDERFUL WEEKEND LADIES!!
Manda